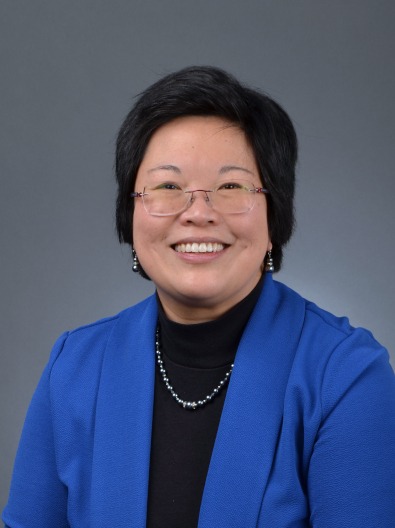 Sandy Chung, M.D., FAAP, FACHE, is a primary care pediatrician in private practice and serves as CEO of Trusted Doctors, a large pediatric supergroup in northern Virginia and Maryland of over 120 providers, and President of Fairfax Pediatric Associates. She also serves as Medical Director of Informatics for the Pediatric Health Network at Children's National Hospital in Washington, DC, and has previously served as Medical Director of Informatics for Signature Partners at Inova Health System in Fairfax, VA.
Dr. Chung is active in local, state, and national organizations and is immediate Past-President of the Virginia Chapter of the AAP, past President of the Medical Society of Northern Virginia, and past District Director for MSV.  Nationally at AAP she serves on the Committee for Child Health Financing, the CHILD Registry Incubator Group, as Vice-Chair and Executive Committee of Council on Clinical Information Technology, and previous member of the Taskforce for Policy Development.  She has served in leadership roles at many national, state, and local organizations.  Most recently at the state level, she was appointed by the Virginia Governor to serve as Co-chair of the Governor's Task Force on Primary Care to develop payment reform models to improve sustainability for primary care. Through her career, she has focused on improving health information technology and interoperability through her past roles as Advisory Council for Carequality and as a Board member of Connect Virginia, the statewide health information exchange.
Clinically, she has worked tirelessly to impact pediatric health issues including serving as a Governor appointed Board Member of the Virginia Foundation for Healthy Youth, where she also served as Chair, dedicated to cessation of tobacco and substance use and reduction of obesity in Virginia's youth.  She is currently a Board member of the Virginia Early Childhood Foundation committed to advancing school readiness and the link between a quality early start for children and productive future workforce.  With a passion towards solving the mental health crisis, she is the Founder and Medical Director of the Virginia Mental Health Access Program, a statewide training program for primary care providers, child psychiatry consult line, and care navigation service for families. She continues to work on improving mental and behavioral health in Virginia through her appointment to the state Children's Cabinet Trauma-Informed Care Working Group to coordinate efforts across state agencies to foster systems that provide consistent trauma-informed response to children with ACEs and build resiliency in children.
She received her BA degree and her Doctor of Medicine degree from the University of Virginia. She did her Pediatric Residency at Inova Fairfax Hospital for Children affiliated with the University of Virginia. She completed her Masters of Science degree in Health Administration at Virginia Commonwealth University.  Dr. Chung is board certified by the American Board of Pediatrics and is a Fellow of the American Academy of Pediatrics and Fellow of the American College of Healthcare Executives.  Dedicated to teaching students and residents, she is a Clinical Assistant Professor at Georgetown University School of Medicine, an Associate Professor at Virginia Commonwealth University School of Medicine, and an Associate Professor at the University of Virginia.
She was recently recognized with the Clarence A. Holland Award for her outstanding contribution to the community for citizenship and public service, beyond the call of duty, as a practicing physician, and provided outstanding leadership in the field of political advocacy. She is the proud mother of four children and enjoys advocacy, health IT, health policy, practice management, and advocating for children and pediatricians.